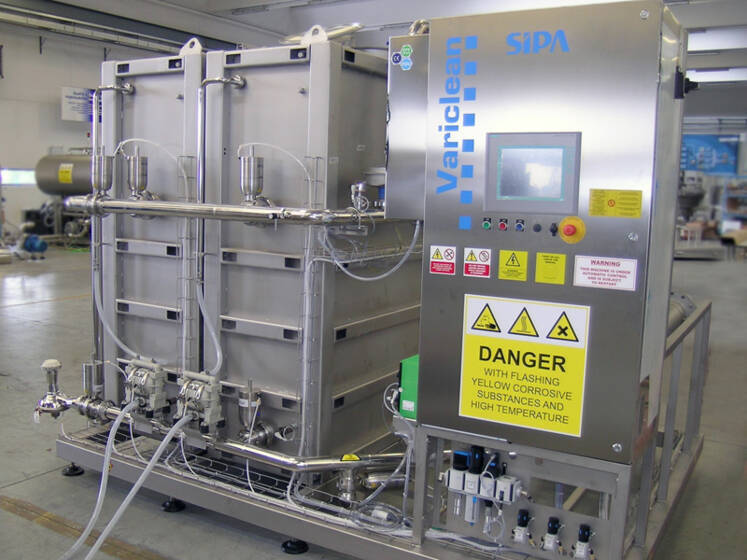 The water is automatically loaded in the preparation tank according with the level probes.
Heating is obtained by re-circulation of the washing solution on the tubular heat exchanger and in the meantime the temperature is controlled with a PID loop and a modulating valve.
The concentration of the washing solution is controlled by a conductivity meter fitted on the recirculation / return pipeline to ensure an accurate and repeatable control.
The concentration of the sterilising solution is obtained by using an electronic dosing pump driven by the flow meter fitted on delivery pipeline to ensure an accurate and repeatable control.
The CIP plant is also equipped with automatic valves needed for the preparation, washing and rinsing cycles required by the sanitizing recipe.


A complete CIP cycle provides:
Rinsing with treated water at ambient temperature for a period of time of 10'.
Hot sanitizing by using a chemical solution, with a concentration 1 ÷ 3 % for 20'.
Rinsing with treated water at decreasing temperature for the time required to remove the reagents from the downstream units or till the end of the cooling of the same.
Flooding of the downstream units by using treated water and sterilizing solution at ambient temperature with a concentration 0,2 ÷ 2 %.
Depending on the number of tanks and type of sanitizing process, the above sequence can be modified accordingly.

At start up, the cleaning cycle is freely selectable, the operator may select, create washing cycles with partial phases, the same way the operator can change the washing time, concentration, flow, pressure etc...
Using the HMI installed on the electrical cabinet the machine can store and retrieve many different cleaning recipes ensuring the maximum flexibility to the end user.